If you want to make a real difference, Loudon County Habitat for Humanity offers lots of ways for you to do just that. Volunteers are at the very heart of our program to provide simple, affordable houses to low income families. Whether you want to swing a hammer, be a cashier in our Home Store or assist with house dedications or other events, there is a place at the Habitat table just waiting for you! We can guarantee a life changing experience that allows you to make a difference, find new and lasting friendships, learn some new skills that will come in handy and see your hard work come to fruition.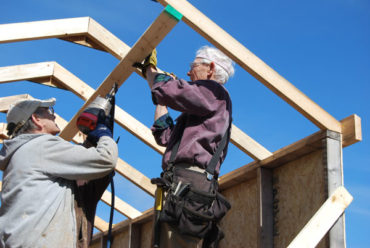 Volunteering in Construction
Working on the construction of a Habitat house is by far the most popular and visible volunteer opportunity available to you. Do you have to be an expert builder or a master carpenter? Absolutely not. All you need is a willing spirit. Since our house builds are led by experienced supervisors, volunteering on a Habitat house is actually a great way to learn new skills. Tools, materials and instruction are all provided to you.
But just as important, you will working alongside our partner families and other volunteers from all walks of life.
There are dozens of home construction tasks that could use your help, such as framing, painting, house cleaning and installing siding, windows and doors. Volunteers are also needed to provide drinks and snacks at the construction site.
We also work with older and/or disabled homeowners to make repairs or renovations to their homes.
And we build year round. No matter what time of year, there is always a need for volunteers. Whether you are by yourself or you have a group from your church, work, neighborhood, school or family, we welcome your participation.
Volunteering at the Home Store
If you like the idea of working in a retail setting, there are a number of positions available including serving as a cashier, sorting and pricing donations, stocking merchandise and inventory.
The Habitat Home Store provides an important revenue stream for our house building. Each year this store raises enough money to fund two Habitat houses! It also serves as a community service by providing clothing, home furnishings, furniture and appliances at a very affordable price, thanks to the thousands of donations received throughout the year.
If you have gently used items that could be resold and provide funds for Habitat, you can bring them to the Home Store. For larger items call and schedule a pick-up at (865) 988-7427, option 1.
Volunteering at the Administrative Offices
If you prefer an office setting, there are always things you could do to assist in the Habitat office such as making copies, helping with mailings and filing. You'll find that our small staff will welcome your help and make you feel right at home.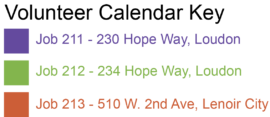 Volunteer Calendar - For more information or to sign up, contact Sammie Shanks, Volunteer Coordinator at 865-640-5578 or sammie@loudoncountyhabitat.org
Required Forms and Information
Please click on the links to view and print the information needed to volunteer. Fill out the forms and return to our Volunteer Coordinator, Sammie Shanks.